About Us
Syscon Software & Technologies was setup in April 1997 with the objective of customised software solutions for Hotels, Hospitals, Automobiles, Non Banking Financial Corporates, Educational Institutions, Trading Concerns, Exporters, Government Departments, Financial Institutions and Public Sector Manufacturing companies and a consultant in the IT Industry. It was founded by experienced professionals who have done extensive projects in respective fields in early 1990s. Syscon Software & Technologies is a Business Partner of Microsoft Corporation, USA.
Syscon's major products are "CURE" (The Complete Hospital and Health Care Management Software), "SEASONS" (An Integrated Hotels and Resorts Management Software), "VASTHRA" (Software for TEXTILES and WEDDING CENTRE INVENTORY), "CROSSROADS" An Integrated Software for Automobile Dealers Inventory Management System.
Syscon develops Software Projects in RDBMS platform for various system applications as well as Web based projects. We have over 450 installations in Kerala, Karnataka, Maharashtra & Tamil Nadu. As of now company employs professionals in various departments like Research & Development, Customer Support and Marketing of Software. Company has appointed consultants for importance in the various projects. The professionals appointed are experienced in most modern platforms and very well qualified.
CELEBRATING 16 YEARS OF EXCELLENCE
1997 - 2013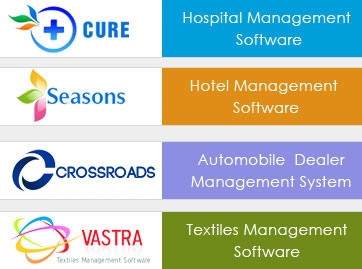 What Clients Say
Quite frankly we would not have made it without SYSCON - so a hearty thanks, especially to the Development and Support team
Paul Babu
MD, Hotel Luciya Palace
Our hotel software project implementation and their support were quite smooth. SYSCON always responded well whenever there was an issue...
Abhilash
MD, Hotel Indraprastha Fairmont